Rachel Price is a fourth year Ph.D. candidate in the Teves Lab at the University of British Columbia. She started in the Teves Lab in 2019 after completing a Bachelor of Arts in Biochemistry, Biophysics, and Molecular Biology at Whitman College in Walla Walla, Washington. Her current research project examines transcription factor activity during mitosis in mouse embryonic stem cells using a combination of genomics, single molecule live-cell imaging, and gene editing. For this project, she received a Dragon's Den award from the BC Regenerative Medicine Network in 2021. Learn more about Rachel.

Can you tell us more about your research?
A large number of transcription factors (TFs) have been shown to bind and interact with mitotic chromosomes, which may promote the efficient reactivation of transcriptional programs following cell division. Although the DNA-binding domain (DBD) contributes strongly to TF behavior, TFs from the same DBD family can display distinct binding behaviors during mitosis. To define the mechanisms governing TF behavior during mitosis in mouse embryonic stem cells, we examined two related TFs: Heat Shock Factor 1 and 2 (HSF1 and HSF2). We found that HSF2 maintains site-specific binding genome-wide during mitosis, whereas HSF1 binding is globally decreased. Surprisingly, live-cell imaging shows that both factors appear excluded from mitotic chromosomes. Interestingly, we found that the HSF2 DBD alone can coat mitotic chromosomes but is insufficient to promote HSF1 coating. These data further confirm that site-specific binding and chromosome coating are independent properties, and that for some TFs, mitotic behavior is largely determined by the non-DBD regions.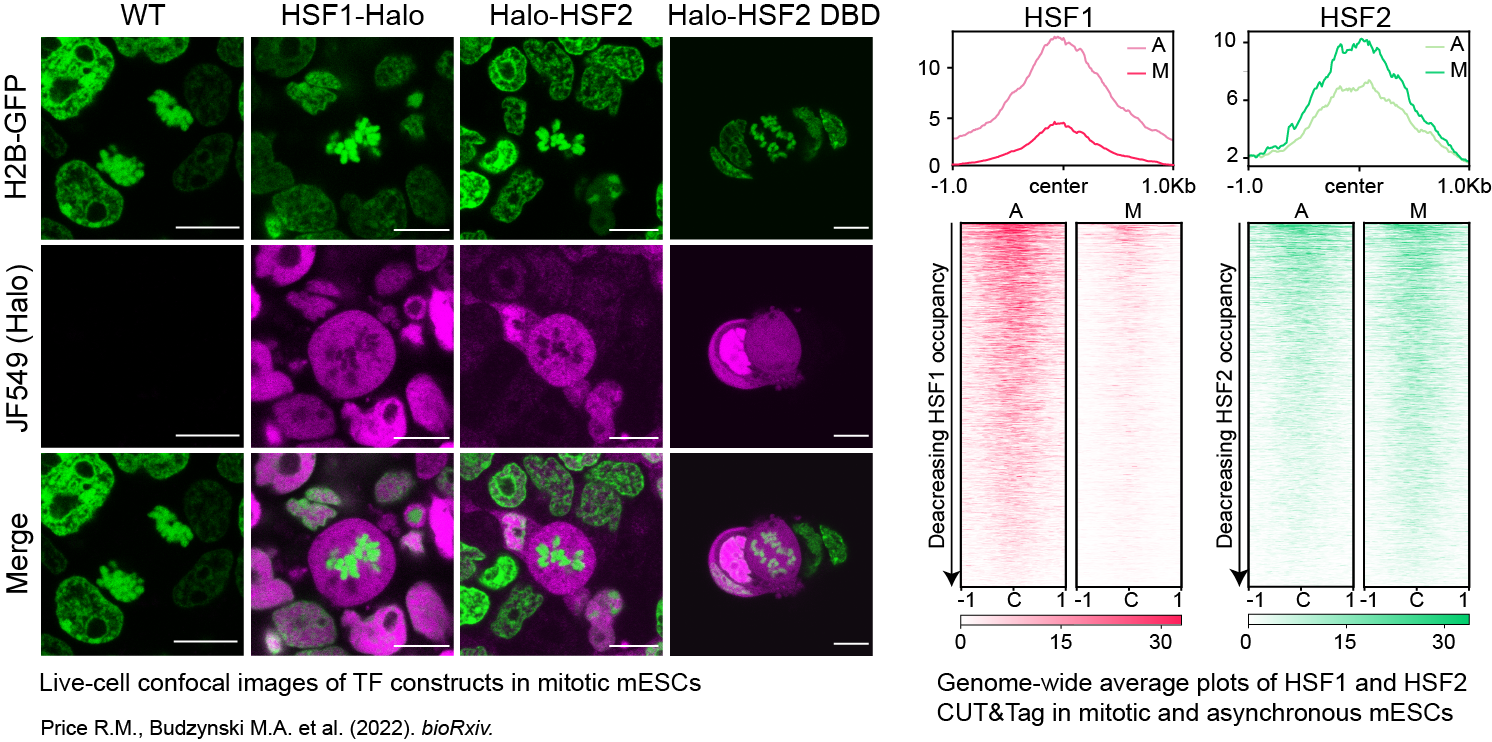 Credit: Rachel Price and Marek Budzynski, Teves Lab
Where are you from? What do you miss about your hometown/country?
I am from Eatonville, Washington USA. I miss my family and the spectacular view of Mt. Rainier.
What city do you currently live in and what do you like most about this city?
I currently live in Vancouver, BC. I love the variety of outdoor spaces that BC offers (beaches, mountains, forests), and the amount of green space that is integrated into the city.
What are some ways you detach from work/science/academia? 
I love anything craft related—I spend a lot of time knitting, crocheting, and doing pottery outside of the lab. 
Do you have any special talents outside of research that few people in your academic life know about?
I took 10 years of piano lessons, though I am a bit out of practice these days. 
Do you have a recommendation for a book, tv show, movie or documentary?
I recently read Such a Fun Age by Kiley Reid, which I highly recommend to anyone! I am also currently reading the Neapolitan Novels by Elena Ferrante, which is an excellent series. 
What made you decide to become a researcher?
Both of my parents are scientists, so I guess I got the push from both sides there. I have always liked understanding how things work and my research allows me to further this understanding at the cellular level.
If you wouldn't be a researcher, what would you like to be/think you would be?
Realistically, probably an engineer. But if I'm being honest, I'd love to just get paid to do crafts or art.
What sparked your interest in epigenetics?
I was first introduced to epigenetics in undergrad when we learned about how prenatal exposure to famine had life-long effects on DNA methylation patterns. This was pretty mind-blowing to me at the time!
If you could give your "first-year-PhD-self" one advice, what would it be?
Trust your knowledge and abilities!